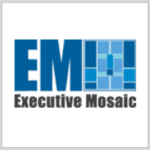 Website Executive Mosaic INC
Executive Mosaic has been the leader in connecting, promoting and branding executives of consequence through exclusive peer networking events and media.
Job description
Executive Mosaic is an Events & Media company in the Northern Virginia area that centers around the government contracting community. Our goal is serve those who serve the mission. The Membership Coordinator position is perfect for someone who would like to meet and work alongside the govcon/government/military communities' senior leaders.
Membership Coordinator Job Description
Executive Mosaic is seeking a Membership Coordinator to assist with the operations of our rapidly growing sales organization. The Membership Coordinator will work hand-in-hand with the Sales Director on both day-to-day tasks and long term execution. Ideally the Membership Coordinator will have the ability to grow into a more senior sales, and/or management role.
Membership Coordinator Key Responsibilities
Assist sales director with daily sales reporting, dashboards, and KPIs
Coordinate with remote staff, via video conferencing, to ensure timely execution of assignments
Manage recurring customer interactions on behalf of the sales director and sales team
Coordinate, and set, meetings for the sales director
Identify and prospect potential sales targets
Assist the sales and events teams with event promotion and member outreach
Assist in marketing efforts for Executive Mosaic's portfolio of offerings
Membership Coordinator Required Qualifications
4 + years of related experience
Bachelor's degree from an accredited college
Strong verbal and written communication skills
Deep Understanding of Salesforce.com and Salesforce reporting
Proficiency in Excel, Word, and G Suite
Video Conferencing experience and etiquette is a must
Social media proficiency desired
Adobe and marketing experience is a plus
Eagerness to grow in a position and within the company
Enthusiasm, and an open mind, to learn new skills and technologies and take on additional responsibilities
Strong analytical and follow through skills
Ability to work well independently on defined tasks
Ability to work well as part of a team
Membership Coordinator Hours: M-F 8:30AM-4:30PM
Membership Coordinator Benefits: Health Insurance, Dental, Vision, PTO, 401K
Membership Coordinator Salary: $52K base PLUS commission and performance based bonuses
Job Type: Full-time
Pay: $52,000.00 per year