From Jim Garrettson, Executive Mosaic President & Founder
The General Services Administrationtook another step forward this week inits long-term strategy to help other federal agencies adopt next-generation technologies from industry partners.
After sitting down with industry and government leaders to map out strategy, GSA said it began implementing the Network Services 2020 program (NS2020) throughout the federal government.
"GSA created the first government-wide telecommunications program in 1960," noted Mary Davie, assistant commissioner of the integrated technology services office at GSA's Federal Acquisition Service."
"As technology continues to shift, GSA will persist to find easy, efficient, and cost savings ways to enable agencies to access and use those technologies," Davie added.
The NS2020 program intends to increase the use of government- wide options for cloud computing, mobile, IPv6 and other tech tools.
To stay on top of its impact and implementation, click here to follow ExecutiveGov.
NS2020 is but one example of how agencies and GovCon firms are collaborating to bring emerging technologies into the public sector enterprise.
Doug Smith, CEO of telecom services contractor Oceus Networks, recently described to ExecutiveBiz how his company worked with the FCC to testhow a mobile network would operate at a 70,000-foot altitude over Denver.
"It took four balloons to pull the 60‑pound payload up to 70,000 feet and it was quite a spectacle," Smith said, adding that "all sorts of reports were coming in across Denver about UFOs over the area."
Rob Zitz, Leidos' chief ISR systems architect and a Wash100 inductee, said DHS is among the agencies that look to firms like his for help in "protecting not only the dot‑gov domain, but extending those protections into the critical infrastructure sectors of the private sector that DHS supports."
Louis Chabot Named ManTech Cyber Group VP, Technical Architect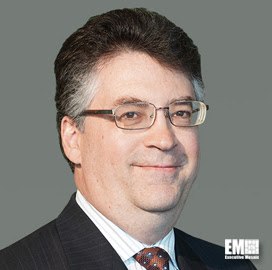 Louis Chabot has been named VP and technical architect for ManTech International's mission, cyber and intelligence solutions group.
Chabot will oversee the group's work to develop new offerings for existing and future programs in his new role.
"We continue to address increasingly complex information technology challenges for commercial, federal, state, and local government customers," said Bill Varner, president of the MCIS group.
Chabot previously led DRC's big data practice and currently serves as an adjunct professor at George Mason University's department of applied information technology.
FireEye Acquires nPulse Technology to Bolster Cybersecurity Platform
FireEye has agreed to acquire Virginia-based network forensics firm nPulse Technology as FireEye seeks to combine its cybersecurity platform with nPulse Technology's security system.
This deal comes just months after FireEye bought cybersecurity firm Mandiant for more than $1 billion.
"The new reality of security is that every organization has some piece of malicious code within their network," said David DeWalt, FireEye chairman and CEO.
FireEye intends to add nPulse's data packet capture technology to Mandiant's defense portfolio.
Diane Balderson Joins Northrop as Contracts & Pricing VP
Diane Balderson has been appointed VP of contracts and pricing at Northrop Grumman, where she will be responsible for crafting policies and overseeing the contract risk review process.
The 33-year acquisition veteran previously served as executive director and assistant commander for contracts at Naval Air Systems Command, where she was the first civilian to lead the organization.
"She has led a broad range of large contracting organizations and has executed complex business deals for both defense and civil agencies," said James Palmer, Northrop CFO and a corporate VP.
Prior to NAVAIR, Balderson held a number of leadership roles at the EPA.
Thomas Vecchiolla Appointed Raytheon Int'l Business President
Thomas Vecchiolla has been named president of Raytheon International Inc., where he will oversee the missile maker's DC.-based international business team.
The 22-year Navy veteran most recently served as VP of business development and strategy for Raytheon Integrated Defense Systems..
"Tom's impressive depth of industry knowledge and strong customer relationships, combined with his political expertise and military background, provide him with a strong foundation to advance Raytheon's focus on global growth and customer success," said John Harris, Raytheon International CEO.
Vecchiolla worked for Commerce One e-Government Solutions prior to joining Raytheon in 2002.
Bradley Feldmann to Succeed Bill Boyle as Cubic CEO
Bradley Feldmann will succeed Bill Boyle as CEO of Cubic Corp. and also serve on the San Diego-based contractor's board of directors.
Feldmann also serves as president of Cubic's defense systems business and will step into the chief executive role on July 1.
"Having worked with Brad for many years, I know that he is the right leader at the right time for Cubic," Executive Chairman Walter C. Zable said.
Feldmann first joined Cubic in 1989 and held leadership roles at ManTech and OMNIPLEX before returning to Cubic in 2008.